Sintered NdFeB magnets are the third generation of rare-earth permanent magnets, which are the magnets with outstanding performance among the rare-earth permanent magnets.It is an alloy magnet made of metallic Neodymium, Iron, Boron and other trace elements through powder metallurgy process. NdFeB magnet normally called "King of Magnet" for its higher Br, higher Hcj, higher magnetic energy product. It has very good machinability and high cost performance.
NdFeB magnets have poor resistance to oxidation and corrosion, so in general the surface needs to be plated. The types of plating we can provide are phosphating, Gold, Silver, Zinc, Nickel-Copper-Nickel, Epoxy and so on. All of our plating meet the ROHS requirements of EU.
Sintered NdFeB adopts powder metallurgy process, the production process can be summarized as follows: batching - melting - powder making - pressing - sintering - performance testing - mechanical processing - inspection - packaging - delivery - after-sales service.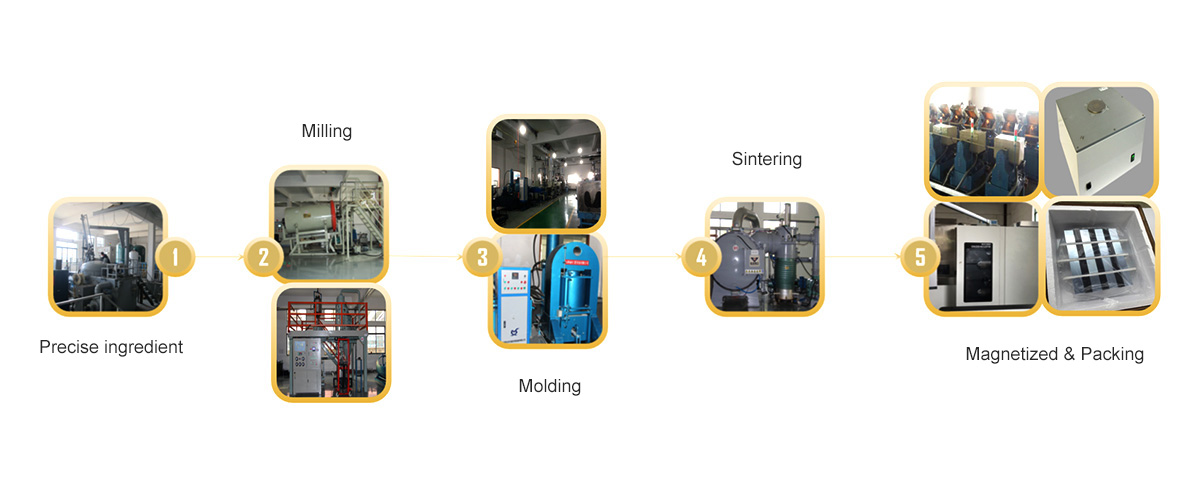 Sintered NdFeB has the characteristics of high remanence, high magnetic energy product and moderate price. The following is the list of grades we can produce at present.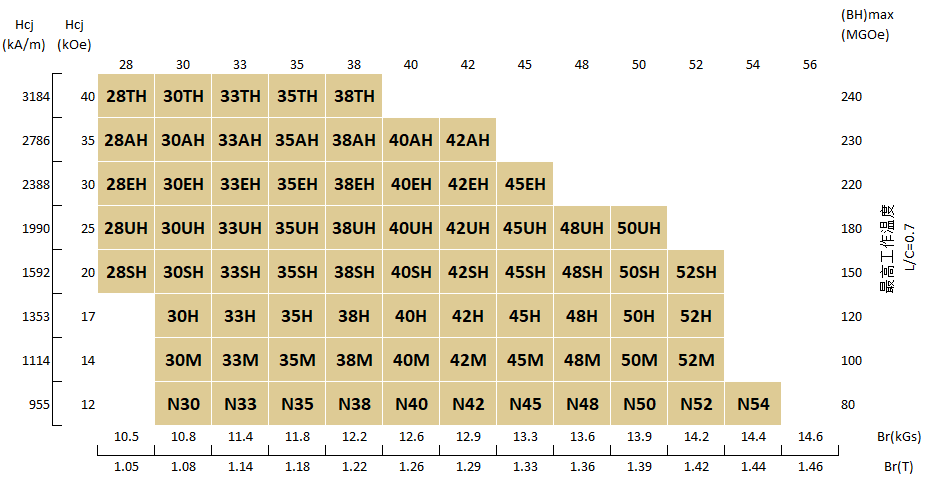 Because of the weak corrosion resistance of NdFeB, the surface usually needs electroplating treatment. The common electroplating coatings are as follows.
Note: 1. The salt spray effect varies depending on the plating process. The salt spray test effect of barrel plating (for small products) is generally better than hanging plating products (for large size products). 2. Salt spray test (SST) conditions: 5% sodium chloride solution, 35 ℃ temperature, after a certain number of hours of continuous spray, to see whether there is corrosion on the surface of the plating. 3. Pressure test (PCT) conditions: 2 atmospheres, 95% relative humidity, 121 ℃ temperature, to test the bonding of the coating. Plating with Zinc, Epoxy, Passivation, Phosphating is not applicable to the pressure test. 4.The methods to test the quality of plating are: drop test, scratch test, quick heating and cooling test, constant temperature and humidity test, etc.
Physical properties of sintered NdFeB
Note:The above standard values are for reference only and cannot be used as the judgment basis for material acceptance or rejection.